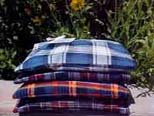 Grain-filled heating pads have become quite popular in health food stores, gifts shops and at craft bazaars. But they are often quite costly. Here is a set of simple and thrifty instructions to make your own rice-filled heating pad using scraps of fabric you may already have on hand.
MATERIALS
1/4 yd. Fabric of your choice, prewashed and preshrunk
1/4 yd. Muslin
Iron
Straight pins
Thread to match your fabric
White thread
Scissors
Ruler -or- a measuring tape and anything with a straight edge
1 ½ cups Grain: Rice (not the quick cooking variety), Flax seed, Rolled Oats (not instant oatmeal), or Barley all work well.
INSTRUCTIONS
Part one: The rice bag
From pre-washed cotton muslin, or similar fabric, cut a piece 8" x 22".
Fold the rectangle in half so now it measures 8" x 11" and sew the two longer edges. You can use your serger, if you have one.
Turn right sides out, so you now have a nice little fabric bag. Iron if necessary.
Fill the bag with about 3 C. of grain (rice, barley, whatever). It should be pretty full, about 2/3 filled, but still have some give to it, like a bean bag.
Sew or serge the end of the bag shut. You may want to turn in the ends so there are no raw edges, and use pins to keep the grain from sliding out on the sewing table. Of course, you can also whipstitch the opening closed by hand.
Part Two: The Cover
You can use either cotton flannel, a small towel, or regular quilting cotton for the cover: anything that will be soft and comfortable against the skin. Do not use synthetic fabrics, or fabrics with metallics in them. This is going to be heated in the microwave, remember!
Cut your cover with dimensions one to two inches wider than you cut your grain bag, and three to five inches longer. In this example, that would be 9x25 inches.
Lay the fabric wrong side up on your table, and fold over one end about half an inch to hem it. Fold the opposite end over the same way.
Sew both end hems. (separately, not together)
Lay the cover out again, right side up. Take one hemmed end and fold it back a few inches. In this example we should have 2 inches to fold. Finger press into place. Fold the opposite hemmed end over the previous fold, so the hem meets up with the first folded edge
Sew the two long edges of the cover, being sure to sew through all the layers.
Turn inside out. You should now have something that resembles a fabric sandwich bag, with a flap at one end. When the grain bag is inserted, fold the flap over the open end to close it.
That's it! Remember that the cover can be taken off for cleaning, since the grain inside can't get wet.
Heating Instructions:
To use, heat your bag in the microwave for about 1-1/2 to 2 minutes. Alternately, put it in a plastic bag and store in the freezer, for those times you need a cold pack.

The rice retains heat or cold for about 20 minutes. The rice gets a warm, toasty smell when heated. You might notice a slight dampness when the bag is heated, this is just normal moisture in the grain.

The bags can be re-heated indefinitely, although you can certainly replace the filling when you feel it is no longer holding warmth. I've had some going for over a year now and they are working fine.

IMPORTANT! Be careful heating your grain pack. Do not heat them more than a minute or two, and be certain the heat is evenly distributed. Overheating the bag can result in severe burns to the skin.